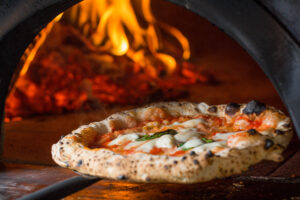 What better excuse to indulge in a heavenly slice of pizza (or three) than on National Pizza Party Day?! In honor of this delicious holiday (which happens to be today), we scoured the area for the best pizza parlors in town. Below are our favorite finds in the Sacramento area and beyond!
For the Chicago Style Pizza Lover: Are you a fan of deep dish pizza? Then head on over to Pizzeria Classico, a family-owned and operated pizza joint located on Sutter Street in the heart of Old Folsom. One of their most popular combinations is their Classico Supreme that's loaded up with Italian sausage, pepperoni, black olives, mushrooms, green peppers, onions, and tomatoes. If you're a vegetarian, you can't go wrong with their Spinach Pie with fresh mushrooms, spinach, red onion and Pomodoro sauce.
For the New York Style Pizza Goer: Need your New York style pizza fix? Stop by Uncle Vito's Slice of N.Y., an authentic New York parlor that has three locations in Sacramento and one in Davis. Their midtown location was the first Uncle Vito's to open. Offering a full sports bar, pizza by the slice and an outside patio, this location has quickly become a favorite local hangout. Not sure what to order? Favorites include their New York style Pepperoni pizza and Tomato Pesto pizza by the slice.
For the Thin Crust Fanatic: Broderick Roadhouse is another great spot to enjoy National Pizza Party Day. Their newer Carmichael location features open seating (both indoor and outdoor), a massive bar and plenty of TV's to watch your favorite game and devour your pizza. If you like spicy, their Ring on Fire is delicious! It comes with pepperoni, Italian sausage, house-pickled sweet and spicy peppers, red sauce, NY mozzarella, and romano cheese. Another great vegetarian option is their Satisfaction pizza that's topped with mushrooms, roasted garlic, olives, sun-dried tomato, bell peppers, and red onions.
For the Ultimate Pizza Connoisseur: If you find yourself in Land Park and have a hankering for some pizza, look no further than Masullo Pizza. Armed with an 800-degree wood-burning oven and creative pairings, Masullo features Neapolitan-style pizzas that people dream about for months to come. The Elissa is a local favorite that features a dream combination of salami, fennel, onion, mozzarella, and Pecorino. Another favorite is their Eileen with mozzarella, Crimini mushrooms, bacon, cream, sage, and black pepper.
Do you have any other favorite spots that you visit to score a delicious slice of pizza? Let us know in the comments section below!