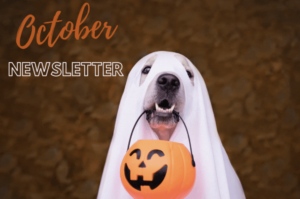 Thinking of ways to entertain your ghosts and ghouls at your upcoming Halloween bash? We've whipped up some frightfully festive entertaining ideas, recipes, and decor inspiration for a party that will haunt your guests for years to come…in a good way of course. We also take a look at festive activities and events in and around the Greater Sacramento Area. Read on…if you dare!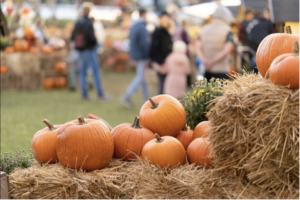 Local Haunts & Happenings:
Discover all of the festive events and activities happening now through the end of October!

(Every Weekend in October): Spookomotive Train Rides @ The Railroad Museum
(Select Days in October): River Fox Train Pumpkin Patch Express
October 14-15, 20-21: Fairytale Town Safe & Super Halloween
October 14: 3rd Annual Fall Fest at Sac City Brews
October 15: Pawtoberfest in Historic Folsom
October 17-31: Village Scarecrow Contest in Old Fair Oaks
October 18: Drakes the Barn: Hocus Pocus
October 21: Rombauer Vineyards Harvest Party
October 21: Souls of the City Festival 2023 in Old Sacramento
October 21: 2023 Spirits, Brews & Bites in Historic Folsom
October 27: Safer Halloween in Old Fair Oaks
October 27-29: Halloween Weekend at Drake's the Barn
October 28: FestiFall Trick or Treating in Historic Folsom
October 28: Wild Howl-O-Ween at Folsom City Zoo
October 31: Halloween Spooktacular at El Dorado Hills Town Center
Other Local Events:
October 1-31: Sacramento Vegan Chef Challenge 2023
October 11-15: 2nd Annual Oak Park Black Film Festival
October 12: P!nk at Golden 1 Center
October 14-15: Golden Sky
October 14: The Peoples Beer Fest
October 14: David Spade: Catch me Inside at SAFE Credit Union Performing Arts Center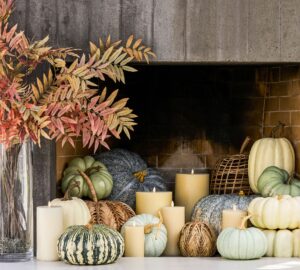 2023 Halloween Decor Trends:
Are you wanting your home to look stylish for Halloween this year? Here are four trends that you can incorporate into your space to get into the spooky spirit and elevate your home's style.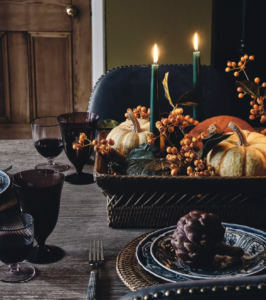 Sophisticated Halloween Color Palettes:
A rising trend that has recently grown more popular involves using unconventional color palettes for Halloween. Interior designers have begun to incorporate emerald greens, deep purples, midnight blues, and rich burgundy hues to establish an elevated and refined Halloween atmosphere.
Embracing these unconventional Halloween color selections allows for a unique departure from the typical Halloween decorations, allowing your home to stand out from the crowd.
These emerald green candles from Anthropologie would surely make a statement at the dinner table surrounded by rich orange pumpkins and natural foliage.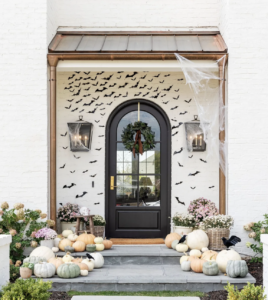 Macabre Minimalism:
If you prefer a more understated approach to Halloween decor, Macabre Minimalism might be the trend for you. This trend incorporates Halloween elements into your decor without added clutter like this flock of bat silhouettes cascading down your white walls. Instead of randomly decorating areas in your home with Halloween decor, find well-chosen statement pieces and create various focus points to make a modern and eye-catching display.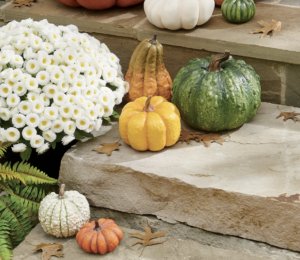 Natural Gothic Elements:
Another Halloween trend that is gaining popularity is the use of natural materials to create a rustic, organic, and environmentally friendly Halloween look. Embrace this trend by incorporating elements such as dried branches, grapevine wreaths, and fall foliage into your home.
Decorate with dried flowers to play into the gothic Halloween themes, such as roses or thistles, and even leaves such as eucalyptus, to create a macabre bouquet. Pull this look together by adding real pumpkins in an assortment of colors.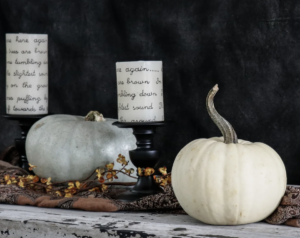 The Fireplace Display:
Think of your fireplace as the centerpiece of your living room! Designers are focusing on the fireplace for 2023…and for good reason! If you no longer use your fireplace, warm up this space with layered candles like this Large Swirl Candle Stick from Walmart and incorporate larger pumpkins towards the back and smaller ones towards the front.
Add some fall flowers, white wheat, and other decorations to create a captivating Halloween display. You can also use these BASK Mottled Pillar Candles, or for an LED option, we recommend these Vinkor Flameless Candles from Amazon.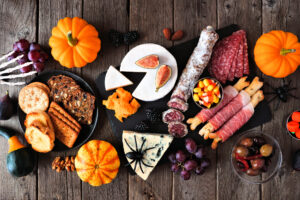 Spooky Sips and Tasty Treats:
This book of recipes will help you conjure up a "fangtastic" Halloween soirée in no time!
Kitchen Brews:
Starters –
Smokey Pumpkin Deviled Eggs
Spooky Spinach Dip
Halloween Charcuteriee Board
Pumpkin Soup in Pumpkin Bowls
Halloween Chex Mix
Hot Dog Mummies
Stuffed Eyeballs
7 Layer Spider Web Dip
Pumpkin Shaped Meatballs
Pumpkin Fondue Nachos
Mains –
Spaghetti & Eyeballs
Graveyard Chicken Enchiladas
Chicken Pot Pie with Crawling Hands
Sausage & Fennel Pasta
Sweet Potato Chili with Turkey & Black Beans
Jack-o-lantern Stuffed Peppers
Sweet Potato Gnocchi with Herbed White Wine Sauce
Kale Salad with Persimmons, Chickpeas and Crispy Shallots
Pumpkin Crust Pizza
Macaroni & Cheese in Acorn Squash Bowls

Killer Cocktails:
"Boos-y" Cocktails –
The Witches Heart Cocktail
Smashing Pumpkin Cocktail
Maleficent Halloween Cocktail
Bloody Eye Ball Martini
The Vampire Cocktail
Smoke, Mirrors & Colors Cocktail
Black Sangria
Mr. Hyde Potion
Vampire Kiss Jello Shots
Bleeding Heart Martini
Shrunken Heads in Cider
Hornitos Black Cauldron Cocktail
Hold the "Boos" Mocktails –
Hocus Pocus Punch
Smoking Halloween Cocktails
Bloody Shirley Temple
Purple People Eater Mocktail
Pumpkin Pie Mocktail
Slow Cooker Vampire Punch
Spooky Sweets:
Strawberry Ghosts
Boo Boo Bark
Halloween Peanut Butter Spider Cookies
"Poison" Toffee Apples
Graveyard Pudding
Cake Pop Eye Balls
Rice Krispie Treat Pumpkins
Dracula Dentures
Spider Web Cake
Hocus Pocus Inspired Smore Pops
Haunted Halloween Brownies
Jack O' Lantern Bowls
Blood Drip Cupcakes
Mummy Apple Pie
Witch's Hat Cupcakes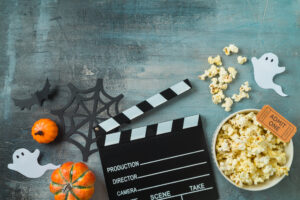 Any scary movie fans out there? Grab the popcorn (and your coziest blankets), and find a Halloween flick that matches your mood on one of the below streaming services!
Netflix Line-Up
Hulu Haunts
Amazon Picks
Disney Plus Magic
TV Classics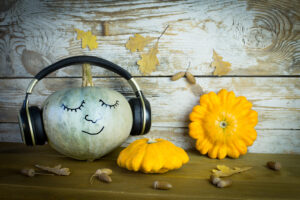 Monster Mashups:
Don't have your friends groaning like zombies over a terrible music playlist. Check out one of the Halloween playlists below to set the right spooky mood!
Spotify's Halloween Party
Pandora Halloween Playlist
Apple Music Halloween Party Playlist
YouTube Halloween Hits from the 80's
Disney's Halloween Playlist (Kid Friendly)
Interested in learning more about the local real estate market? Contact us today!